Migrating Google Accounts
One of the many perils of being transgender is moving from one online personality to another. My old Google account contains my deadname, so obviously I don't want that to represent me. This post is going to contain all the steps I took to leave my old google account behind.
Google Fi
Google Fi was pretty easy. I just contacted support and asked them to migrate my account. This involved setting up a new Fi account on my new Google account, then waiting for support to transfer it. However, it's probably a good idea to transfer the account near the end of the pay period as Google will simply transfer your number for you.
Google Calendar
This was as simple as going to the Import/Export page of Calendar settings. It generates .ical files to import into the new account.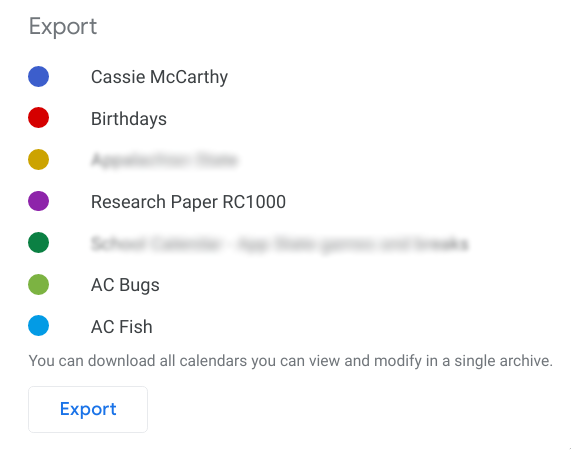 Gmail
Starting over on a new email with no subscriptions to bother with seems way more appealing to me than trying to forward and deal with mountains of email.
Google Docs
This one was interesting. I shared every folder I had with my new account, then transferred ownership of the documents to it. On the new account, I then removed the share to my old account.
Google Keep
Keep was a pain in the ass. I had to individually share each note that I wanted to keep, then make a copy of it on the new account. For my pinned notes I did that, but for the other notes I simply copied and pasted them all into new notes. I didn't bother to preserve the timestamps for these notes as long as they were in some sort of familiar order.
Google Photos
I selected all the photos I wanted to share and added them to an album. I could only select 1500 photos at a time, beware. I set a name like "Migrate 1" on the album and then shared it to my new account. On the new account I can "Add to library" on all the photos. Then I just removed the shared album. This preserves all metadata on the photos. Yet to be seen if it gets back processed for faces and places and other things.
Stuff I haven't migrated yet
Maps
Google Play Music
YouTube
Stuff I didn't bother to migrate
Payments and Google Pay: Just set up my cards in my new account
Android Devices: Just signed in with the new account
I decided that instead of posting this all at once, I'll continue updating it as I migrate more services.